16 July 2021
Help transform care for our elderly patients
Every year we treat over 4,500 frail or elderly patients within University Hospital Southampton.
We want to change the culture of caring for older people by creating a space where patients can be kept active and mobile through the environment and technology. This will maximise their function and reduce the length of their stay.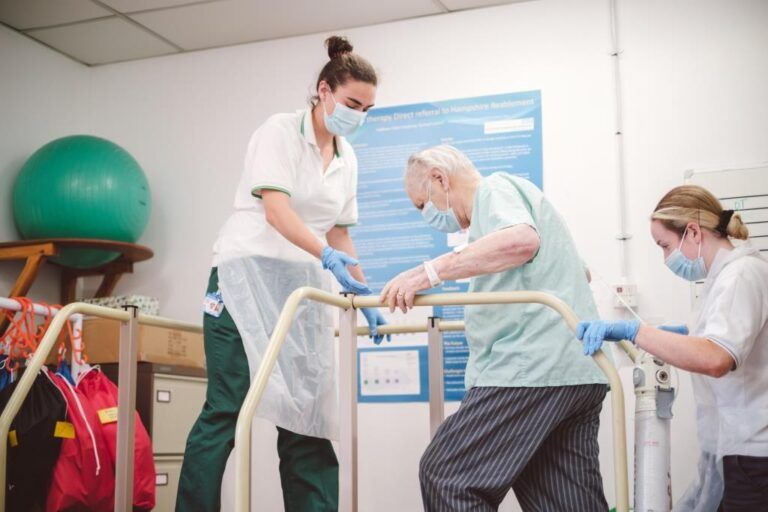 Rehabilitation
When it comes to rehabilitation, many of our elderly patients have increased anxiety because they might have had a fall at home, they may have been in intensive care, or had a long hospital stay.
A way of easing their fears and getting them to visit the gym, is to have a welcoming, bright space with lots of things to look at, and some music playing in the background.
Our older patients can treat therapy sessions as light relief from a very busy ward, with gentle exercises. If they enjoy it they will want to return, and that is the first step towards their recovery.
How Covid-19 has changed the way we deliver care
Over the last year, the elderly care wards delivered life-saving care to those with Covid-19, with parts of the department being converted to COVID specific wards. Erica Williams, Consultant Geriatrician, shared an insight into the last few months:
"Over the past few months our staff have worked tirelessly under stressful conditions. In both waves of the pandemic, the elderly care wards were the first wards to be used for patients with Covid-19.
Therefore, our department has experienced a lot of disruption and our facilities had to be temporarily re-purposed. It has been very difficult to see our patient's not receive the mental stimulation we know we can provide at 'The Hub' and bespoke physical rehabilitation using the physiotherapy gym.
Due to our patient's frailty and multiple medical conditions, they decondition quickly during periods of physical ill health. This was something we saw happening a lot over the last 18 months.
This is why a state of the art therapy gym is so important for us to help our patient's remain mobile. We are all so excited to be proceeding with the refurbishment and are all so grateful to our funders for enabling us to provide the highest level of care we can to our deserving patients. We can't thank you enough."
Why is a gym area necessary?
One of the lasting effects of Covid is the residual weakness that many elderly patients have been left with, both physically and psychologically. This is where our plans for gym can really impactful.

The construction of a fit for purpose, modern gym with the latest in evidence-based activities will allow us to offer that initial rehabilitation and improve function of those patients who do not need a prolonged stay, but just some initial support to get them home." – Steve Hicks, Matron