Support the heroes supporting us
The coronavirus pandemic has affected every department and staff member at University Hospital Southampton like never before. And we're immensely proud of how our colleagues have gone above and beyond every day since the outbreak began, to save lives.
That's why we're ensuring that your donation to our coronavirus appeal is going towards the wellbeing of our staff and patients.
Through your donations, we are already making a difference by quickly responding to their immediate needs. But we need your help to continue to provide this support.
Every donation we receive for this appeal has meant we could provide:
 Ongoing psychological support for our staff who need it and continued professional development for our team of outstanding and committed psychologists so that they can best provide this support
Wellbeing rooms for our staff to take a break away from the ward environment with refreshments and support on hand
iPads for staff and patients to communicate with their loved ones
As some patients are unable to receive visitors, we funded an enhanced patient entertainment system so that they don't have to worry about the cost of accessing a television and will feel less isolated
Bereavement care boxes containing support information for families who may have lost a loved one
Care packs for vulnerable patients who are being discharged from hospital but may need to isolate or are unable to access key items immediately, helping to make the patient experience a little better
Read the most up-to-date information on what we have bought with your donations here.
We are now also exploring:
Improvements to all staff rooms around the hospital
Re-development of green spaces around the hospital so staff and patients can enjoy the outdoors and nature whenever possible
And much more…
Do something positive
Best of all, your gift will show just how much we all appreciate all our staff's tireless work caring and protecting our community.
You'll also be helping provide patients with an exceptional service over the coming weeks.
We believe they're all heroes. If you do too, please donate to support them if you can.
Other ways you can help
We know these are uncertain times. And to get through them together we all need to follow expert advice from our NHS and government.
By making kind and sensible choices you can protect our local community and reduce demand for our services. Find out the latest guidance from the NHS.
Whether it's making a donation or choosing to stay at home, thank you for your support. Your actions make an enormous difference and we really appreciate everything that you've done and continue to do for your local hospital.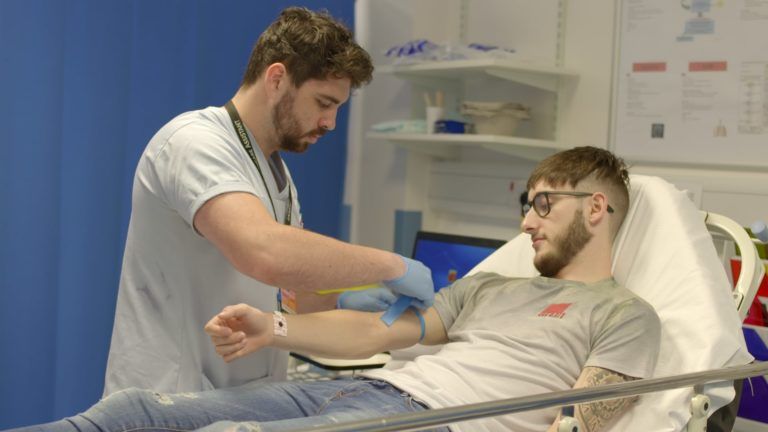 I was here for eight weeks in the high dependency unit and the dedication of the staff here was second to none. I have nothing but admiration for all of them and I do wish them well in these very very hard times." Terry Matthews
Thank you for everything you're doing. If it wasn't for you guys (the staff) I think the whole world would come to an end." Natalie Dent
Thank You from Southampton Hospitals Charity to all the local and national businesses who have supported NHS staff at University Hospital Southampton by providing charitable donations during the Covid pandemic.
We want to thank: Ahmad Tea, Amazon UK, Asda, Aspin, Avon, Bayer, Blue Light Card, BHS Home Appliances, Bosch, Carnival UK, Cavendish Foods, CooperVision, Critical Software, Desty-Marine, ElemenTel, eToro, Fairy Bricks, FedEx Express, Healthcare Computing, Hilton Ltd, IKEA, Ineos, Innocent, JB Associates, Jacobs Douwe Egberts, Knight & Wilson, Krispy Kreme, LST Projects, MGA Entertainment, Nestle, Novum Law, Ofai Office Furniture, One Stop, Paris Smith, Petty Wood, Premier Foods, PwC, REED Recruitment, Signs Express, Southampton Airport,  Tesco, Trago Lounge and Santo Lounge.
We hope you're proudly displaying our NHS Supporter Stamp for all to see.
If your business would like to support NHS front line staff please get in touch with us as we'd love to hear from you.
Last updated: 13/07/2020